Historical Peony Catalogs online
Brand Peony Farm 1968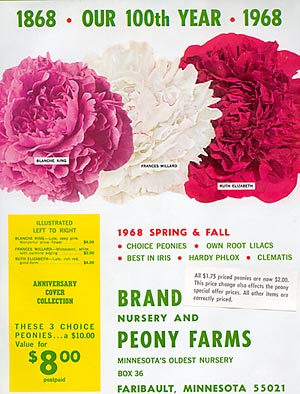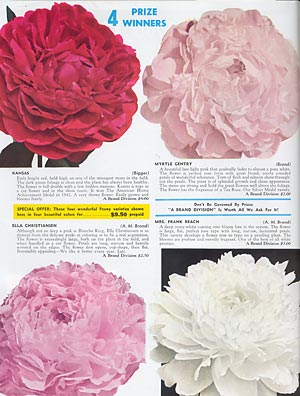 | | |
| --- | --- |
| KANSAS (Bigger) Early bright red, held high on one of the strongest items in the field. The dark green foliage is clean and the plant has always been healthy. The flower is full double with a few hidden stamens. Kansas is tops as a cut flower and in the show room. It won The American Home Achievement Medal in 1942. A very showy flower. Easily grown and blooms freely. | |
| ELLA CHRISTIANSEN (A. M. Brand) Although not so deep a pink as Blanche King, Ella Christiansen is so distinct from the delicate pinks in coloring as to be a real acquisition. The flower is exceedingly large, both on the plant in the field, and when handled as a cut flower. Petals are long, narrow and heavily serrated on the edges. The flower first opens, cup-shape, then flat. Irresistibly appealing — We like it better every year. Late. | |
| MYRTLE GENTRY (Brand) A beautiful late light pink that gradually fades to almost a pure white. The flower is perfect rose form with great broad, nicely rounded petals of wonderful substance. Tints of flesh and salmon show through' out the petals. The plant is of splendid growth and clean appearance. The stems are strong and hold the great flowers well above the foliage. The flower has the fragrance of a Tea Rose. Our Silver Medal variety. | |
| MRS. FRANK BEACH (A. M. Brand) A deep ivory-white coming into bloom late in the season. The flower is large, flat, perfect rose type with long, narrow, laciniated petals. This variety develops a flower true to type on a yearling plant. The blooms are profuse and sweetly fragrant. One of the best of all white peonies. | |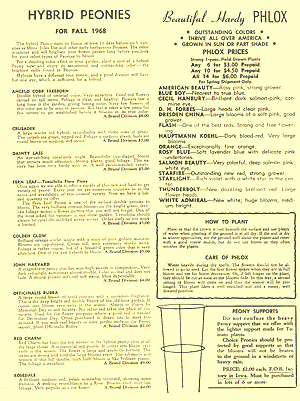 HYBRID PEONIES
FOR FALL 1968 The hybrid Peony stares to bloom at least 10 days before such varieties as Mons. Jules Elie and other early herbaceous Peonies. The color is intense and will brighten your flower garden long before you look for your other types of Peonies to bloom.
For a dazzling color effect in your garden, plant a root of a hybrid Peony now and enjoy its sensational and outstanding color — the brightest color found in Peonies.
Hybrids have a different root system, and a good division will have but one eye, which is sufficient for a hybrid.
ANCELO COBB FREEB0RN Double hybrid of unusual color. Very attractive. Coral-red flowers carried on tall stems. Foliage is clean and healthy. Flowers last a long time in the garden, giving lasting color. Very few flowers of this color are to be seen in peonies. We feel it takes a few years for this variety to get established before it blooms in its true color.
CRUSADER A large scarlet red hybrid, semi-double with three rows of petals. The carpels are green, tipped red. Foliage a medium green, buds are round borne on medium stiff stems.
DAINTY LASS An eye-catching coral-pink single. Beautifully cup-shaped bloom that attracts much attention. Strong plants, good foliage. This variety has been very hardy with us. A well recommended variety
FERN LEAF—Tenuifolia Flora Plena Once again we are able to offer a supply of this rare and hard to get variety of peony. Every year we get numerous inquiries as to the name and availability of this unusual variety. Now we have a limited quantity to offer. The Fern Leaf Peony is one of the earliest double peonies to bloom. The very brilliant crimson blooms on the bright green, fern-like foliage makes a flower picture that you will not forget. One of the most asked for varieties in our show garden. Tenuifolia should always be carefully mulched every winter. Order early as our stock is limited.
GOLDEN CLOW Brilliant orange-scarlet single with a mass of pure golden stamens. Blooms are cup-shaped. Grows tall, with extremely sturdy stems. Foliage is rather coarse, but of a beautiful green color that is very attractive. One of the first hybrids to bloom.
JOHN HARVARD A magnificent peony that has won high awards in competition. Very dark red single, sometimes almost double. Color is clear and does not fade. A strong grower with tall stiff stems. Most dependable.
OFFICINALIS RUBRA A large round bloom of vivid crimson with a cinnamon fragrance. This is the deep bright red double Peony of the old time garden. It comes into bloom very early in the season. Always in bloom by Memorial Day in our locality. No other red takes the place of this variety. Used for cut flower purposes where a good red is needed for Decoration Day. Often purchased in dozen lots to meet this demand. If you wish real beauty in your garden early in the Peony season, plant Officinalis Rubra.
RED CHARM Red Charm has been the top winner in the hybrid peony class at all the large shows. A sensational red double. It comes into bloom very early in the season. The flower is large and perfectly formed. The stems are strong and hold the large blooms erect. The substance and texture of this full double, high built bloom is like brilliant plastic. The foliage is excellent.
ROSEDALE A brilliant medium red, petals somewhat incurved, showing some stamens. A striking resemblance to a Rose, Blooms erect over low foliage. Very popular as a cut flower.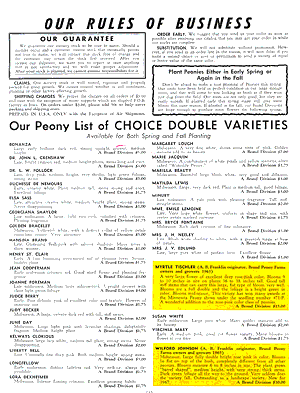 OUR RULES OF BUSINESS
OUR GUARANTEE We guarantee our nursery stock to be true to name. Should a mistake occur and a customer receive stock that eventually proves not true to name, we will replace this stock free of charge and the customer may retain the stock first received. After you receive our shipment we want you to report at once anything that is not satisfactory and we will make proper adjustment. After your stock is planted, we cannot assume responsibility for it.
CLAIMS. Our nursery stock is well rooted, vigorous and properly packed for good growth. We cannot control weather or soil conditions, planting or other factors affecting growth,
SHIPPING CHARGES. We prepay the charges on all orders of $3,00 and over with the exception of peony suppoits which are shipped F.O.B. factory in Iowa. On orders under $3.00, please add 50c to help cover packing and shipping costs. PREPAID IN U.S.A. ONLY with the Exception of Air Shipments.
ORDER EARLY. We suggest that you send us your order as soon as possible after receiving our catalog that you may get your order in while our stocks are complete.
SUBSTITUTION. We will not substitute without permission. However, if you send in an order late in the season, it will save delay if you name a second choice or give us permission to send a variety of equal or better value of the same color.
Plant Peonies Either in Early Spring or Again in the Fall. Don't be afraid to make a nice planting of Peonies this spring. Our roots have been held in perfect condition in our large storage room, and they will come to you looking as Fresh as if they were just dug from the field. Our roots are not only good, but they are really superb. If planted early this spring many will give some bloom this same season. If planted in the fall, our Brand Divisions are large enough to produce some flowers the following spring.
Our Peony List of CHOICE DOUBLE VARIETIES Available for Both Spring and Fall Planting
BONANZA, Large early brilliant dark red, strong upright grower, medium height.
DR. JOHN L. CRENSHAW Late. Bright crimson red, medium height plants, stems long and erect.
DR. L. W. POLLOCK Late, deep pink, medium height, very thrifty, light green foliage, strong stems.
DUCHESSE DE NEMOURS Early, creamy white. Plant medium tall, stems strong and erect. Excellent foliage.
ELSA SASS Late, attractive creamy white, medium height plant, strong stems. Never disappointing.
GEORGIANA SHAYLOR Late midseason. A large, light rose-pink, splashed with crimson. Pleasing fragrance.
GOLDEN BRACELET Midsenson. Yellowish white, with a distinct collar of yellow petals encircling center. Very attractive.
HANSINA BRAND Late. Glistening flesh-pink with salmon shading;. Many times a show winner.
HENRY ST. CLAIR Early. A free blooming even-toned red of pleasing form. Strong. healthy plant
JEAN COOPERMAN Early midseason crimson red. Good sized flower and pleasing fragrance.
JOANNE FOREMAN Late midseason. Medium large salmon-pink Upright grower with clean light green foliage.
JUDGE BERRY Early. Fine delicate pink of excellent color and texture. Flowers of immense size.
JUDY BECKER Midseason. A large, velvety dark red with tall, stiff stems.
JUNE DAY Midseason. Large light pink with lavender shadings, delightfully fragrant. Medium height plant.
KELWAYS GLORIOUS Midseason large hey white, medium tall plant, strong stems. Never disappointing.
LIBERTY BELL Late. Unusually fine deep pink. Bush medium height, strong stems.
LONGFELLOW Earlv midseason, distinct fadeless red. Very striking, always dependable.
LORA DEXHEIMER Midseason. Intense flaming crimson. Excellent growing habits.
MARGARET LOUGH Midseason. A very fine white, shows some tints of pink. Golden stamens add to its beauty.
MARIE JACQUIN Midseason. A combination of white petals and yellow .stamens, often called "Waterlily Peony."
MARILLA BEAUTY Midseason. Beautiful large blush white, very good and different.
MATILDA LEWIS Midseason. Large, very dark red. Plant is medium tall, good foliage.
MINUET Late midseason. A pale pink with pleasing fragrance. Tall, stiff, straight stems.
MME. EMILE LEMOINE Late. Very large white flowers, uniform in shape and size, with center petals marked carmine.
MRS. BRYCE FONTAINE Midseason. Rich dark crimson of fine substance.
MRS. J. H. NEELEY Late. Blush white shading to white, with a greenish tinge at base of petals.
MRS. J. V. EDLUND Late, large pure white of perfect form. Excellent flower.
MYRTLE TISCHLER (A. B. Franklin originator. Brand Peony Farms owners and growers 1963) A very large flower of excellent deep rose-pink color. Blooms 9 to 10 inches in size on plants 36 to 58 inches tall. Good tall stiff stems that can carry this large, flat type of bloom very well. Blooms are a full double and the foliage is a bright green in color. Blooms mid-season. This varretv has won many awards at the Minnesota Peony shows under the seedling number 471-P. A wonderful addition to the rose-pink color class of peonies.
SUSAN WHITE Early midseason. Large pure white Many golden stamens add to its beauty.
VIRGINIA MARY Early. A medium pink, good cut flower variety. Many blooms in flower at one time.
WILFORD JOHNSON (A. B. Franklin originator, Brand Peony Farms owners and growers 1965) Midseason. Large fully double bright rose pink in color. Blooms he flat on top of the bush, completely different from all other peonies. Blooms measure 6 to 8 inches in size. The plant grows "barrel shaped", medium height, with very strong, thick stems. Dark green foliage all the way to the ground. Verv seldom does the variety fall. Outstanding a? a landscape variety. New for 1967.
MONS. MARTIN CAHUZAC (Dessert) If you wish the darkest red Peony grown, order this one. Flowers medium to large, semi-rose type, with stamens. Color a deep maroon-red. It often comes semi-double until plants are well established. The plant is medium tall with strong, sturdy upright stems. It comes into bloom early mid-season and is a striking landscape variety.
We are growing in our fields many fine varieties of Peonies, but not in sufficient quantity to offer them in our catalog. If you are interested in any particular variety, write us as we may be able to supply you.
BARONESS SCHROEDER (Kelway) This is indeed a most excellent white which shows a tint of pink when it first opens. It soon fades to a pure white. Its all around good qualities make it very desirable as a commercial cut flower. Pleasingly fragrant. Midseason.
MARTHA BULLOCH (Brand) One of the greatest pink Peonies. Color is bright old-rose-pink. The plant is very tall, comes into bloom late midseason. Flower is cupped rose type, often measures 9 to 12 inches in diameter. Stems strong and hold the heavy flowers well above the foliage. A constant prize winner.
SHAWNEE CHIEF (Bigger) An excellent cut-flower red coming into bloom midseason. It open; well in the field and has excellent keeping qualities if placed in storage. The stems are about 30 inches tall and on well established plants you may expect from 12 to 20 flowers. In the bud this fine red resembles a Rose.
| | |
| --- | --- |
| DULUTH Late, large pure white, rtrong stiff stems. | |
| BETTER TIMES Late midseason deep rose pink. Tall strong stems. | |
| WINNIFRED DOMME Midseason. Bright scarlet, good growing habits. | |
| WALTER FAXON (Richardson) One of the most vivid of all pinks—a real pink. A remarkable flower in the show room. The flowers are of medium sue, attractive in form, and mildly fragrant. The plant is of medium height with good stems and foliage. | |
| PHILIPPE RIVOIRE (Riviere) A very late velvety dark red darkening toward the center. The beautiful form of this flower and its uniform soft rich color make it a flower loved by all who see it. This is a fine show flower and is absolutely void of stamens. It has a pleasing fragrance and is one of the highest rated reds. | |
| MRS. FERN LOUGH (Gumm) It is not often that we are able to list this very fine double light pink. The color is very similar to the variety Tourangelle, and comes into bloom midseason. The plant has excellent foliage with strong, stiff stems that hold the flowers erect. | |
| Loren Franklin - Midseason | |
| Splendida (Pink) Late | |
| Mary Brand (Red) Midseason | |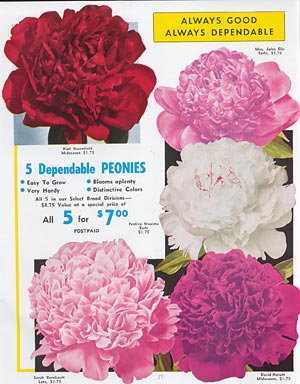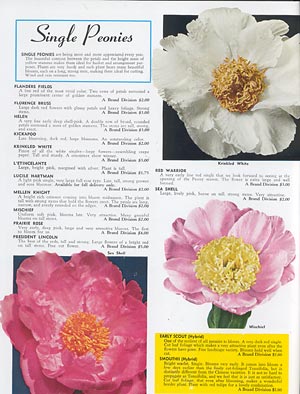 SINGLE PEONIES are being more and more appreciated every year. The beautiful contrast between the petals and the bright mass of yellow stamens makes them ideal for basket and arrangement purposes. Plants ate very hardy and each plant bears many beautiful blooms, each on a long, strong item, making them ideal for cutting. Wind and rain resistant too.
FLANDERS FIELDS A fine red of the most vivid color. Two rows of petals surround a large prominent center of golden stamens
FLORENCE BRUSS Large dark red flowers with glossy petals and heavy foliage. Strong stems.
HELEN A very fine early deep shell-pink. A double row of broad, rounded petals surround a mass of golden stamens. The sterna are tall, strong, and erect.
KICKAPOO Late blooming, dark red, large blossoms. An outstanding color.
KRINKLED WHITE Finest of all the white singles—large flowers—resembling crepe paper. Tall and sturdy. A consistent show winner.
L'ETINCELANTE Large, bright pink, margined with silver. Plant is tall.
LUCILE HARTMAN A light pink single, very large full rose type. Late, tall, strong grower and sure bloomer. Available for fall delivery only.
MELLEN KNIGHT A bright rich crimson coming into bloom midseason. The plant is tall with strong stems that hold the flowers erect. The petals are long, narrow, and evenly rounded on the edges.
MISCHIEF Uniform soft pink, blooms late. Very attractive. Many graceful blooms on tall stems.
PRAIRIE ROSE Very early, deep pink, large and very attractive blooms. The first to bloom for us.
PRESIDENT LINCOLN The best of the reds, tail and strong. Large flowers of a bright red on tall stems. Pine cut flower.
RED WARRIOR A very early fine red single that we look forward to seeing a: the opening of the Peony season. The flower is extra large and well formed.
SEA SHELL Large, lively pink, borne on tall, strong stems. Very attractive.
EARLY SCOUT (Hybrid) One of the earliest of all peonies to bloom. A very dark red single. Cut leaf foliage which makes a very attractive plant even after the flowers have gone. Fine landscape variety. Blooms hold well when cut.
SMOUTHII (Hybrid) Bright scarlet. Single. Blooms very early. It comes into bloom a few days earlier than the finely cut-foliaged Tenuifolia, but is distinctly different from the Chinese varieties. It is not so hard to propagate as Tenuifolia, and we feel that it is just as satisfactory. Cut leaf foliage, that even after blooming, makes a wonderful border plant. Plant with red tulips for a lovely combination.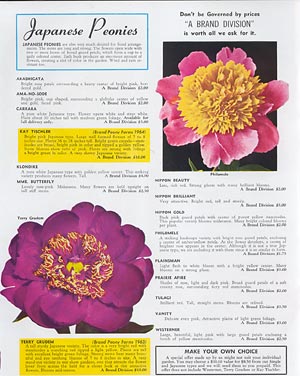 JAPANESE PEONIES are also very much desired for floral arrangements. The stems are king and strung. The flowers open wide with two or more layers of broad guard petals, which form a cup to a gaily colored center. Each bush produces an enormous amount of flowers, creating a riot of color in the garden. Wind and rain resistant too.
AKASHIGATA Bright rose petals surrounding a heavy center of bright pink, bordered gold.
AMA-NO-SODE Bright pink, cup shaped, surrounding a globular center of yellow and gold, faced pint.
CARRARA A pure white Japanese type. Flower opens white and stays white. Plant about 30 inches tall with medium green foliage. Available for fall delivery only,
KAY TISCHLER (Brand Peony Farms 1964) Bright pink Japanese type. Large well formed flowers of 7 to 8 inches sise. Plants 36 to 38 inches tall. Bright green carpels—staminodes are broad, bright pink in color and tipped a golden yellow. Some blooms show tufts of pink. Plants are strong with foliage a bright green in color. A very showy Japanese variety.
KLONDIKE A pure white Japanese type with golden yellow center. This striking variety produces many flowers. Tall.
MME. BUTTERFLY Lovely rose-pink. Midseason. Many flowers are held upright on tall stiff stems.
TERRY CRUDEM (Brand Peony Farms 1963) A tall sturdy Japanese variety. The color is a very bright red with staminodes a matching red tipped a light yellow. Plants ate tall with excellent bright green foliage. Strong stems bear many beautiful and eye catching blooms of 7 to 8 inches in siae. A very stand-out variety in our show gardens, one that attracts the flower lover from across the field for a closer look at this attractive flowers. Blooms mid-season.
NIPPON BEAUTY Late, rich red. Strong plants with many brilliant blooms.
NIPPON BRILLIANT Very attractive. Bright red, tall and sturdy.
NIPPON GOLD Dark pink guard petals with center of purest yellow staminodes. This popular variety blooms midseason. Many bright colored blooms per plant.
PHILOMELE A striking landscape variety with bright rose guard petals, enclosing a center of amber-yellow petals. As the flower develops, a crown of brighter rose appears in the center. Although it is not a true Japanese type, we are including it with them since it is so similar in form.
PLAINSMAN Light flesh to white bloom with a bright yellow center. Many blooms on a strong plant.
PRAIRIE AFIRE Shades of rose, light and dark pink. Broad guard petals of a soft creamy rose, surrounding fiery red staminodes,
TULAGI Brilliant red. Tall, straight stems. Blooms are refined.
VANITY Delicate even pink. Attractive plants of light green foliage.
WESTERNER Large, beautiful, light pink with large guard petals enclosing a bomb of yellow staminodes.