DOJEAN (Sir Peter Smithers, 6921 Vico Morcote, Switzerland), May 4,1990. Seedling number 30350 tree peony. Parentage, Hindo Desekai x Suffruticosa, Rock's variety, U.K. form. White, crimson pink capsule, good substance, pollen, seeds, reliable as Rocks variety. The stem strength has the vigor of the seed parent, probably attains the height of seven feet, blooms in late April, very vigorous plant with foliage, same as Rocks variety. The white capsule of Rocks variety has been replaced by the crimson of the Japanese parent (RHS63A). Flares much redder than in Rocks (RHS58A). Flower form and substance as in Rocks. Rocks some- times has a pale pink flush. This seedling is dead white. (The picture shows 20 or more petals. I would make it a semi-double. - Comment by Don Hollingsworth.) Bulletin #275.
Rivière (1995):
'Dojean' Halbgefüllt. Kulturform von Rock's Variety aus dem Jahre 1988 von Sir Peter Smithers. Erstaunliche Sorte, deren lebhaft rote Basisflecken sich scharf von den sonst reinweißen, riesigen Petalen abheben. Ein echtes Schmuckstück. Foto Seite 39.
DOJEAN
Flower type: Tree Peony—Semi-double
Plant zone(s): 4-8
Bloom time: Mid
Hybridizer: Sir Peter Smithers
Beautiful flower and substance which comes from one of the parents 'Joseph Rocks'. Vigorous garden plant with excellent healthy foliage.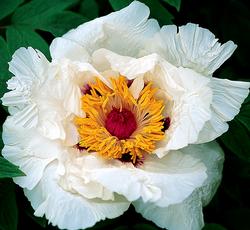 Dojean. Smithers. 1990. European rockii-suffruticosa lineage hybrid. Beautiful, pristine white with purple splashed flares. Flares are very precise and contrast well with the white petals. Sheath and stigmas are brilliant red and are a great contrast to the rest of the flower. Good substance from parent plant, 'Joseph Rock'. Vigorous, with excellent healthy deep green foliage and very cold resistant. Easy to grow and recommended. Named for Sir Peter Smither's long time wife. Fertile both ways. (Rock's Variety 'Highdown' x Hinode sekai). Recommended for cold winter climates.