31.10.2007 Auf meine Nachfrage, ob es sich wirklich um eine 'Huang Jin Lun' handele, bekam ich folgende Antwort:
"... die entsprechende Rechnung von ... habe ich mal als "Beweis" eingescannt. Alle gesendeten Pflanzen waren - so auch die Huang Jin Lun - beschildert. Zu der Pflanze selbst kann ich nur sagen, dass die Buds im Gegensatz zu meinen anderen Päonien geradezu hellgrün waren. Auch der ganze Austrieb gestaltete sich - im Gegensatz zu den anderen Pflanzen - ohne irgendwelche Rot- ober Rotbrauntöne, eben sehr auffallend (hell-)grün. Die Pflanze steht - relativ schattig - auf sandigem Lehm. Ich hatte sie, nachdem ich sie im Oktober 2006 erhalten hatte, erst in einen größeren Container gepflanzt und dann in diesem Frühjahr an Ort und Stelle gesetzt. Vielleicht verändert sich die Blüte ja im 2. Jahr, ich würde Ihnen dann berichten.
31.10.2007 Es scheint sich zu bestätigen, die Pflanze auf dem Bild von gestern ist nicht die richtige Sorte. Hier ein Bild von Wilhelm de Wilde, einem Sammler und Kollegen aus Finnland!
It seem to be proved that the plant on the picture yesterday was not true to name. Here a nice photography from Wilhelm de Wilde, collector and collegue from Finnland: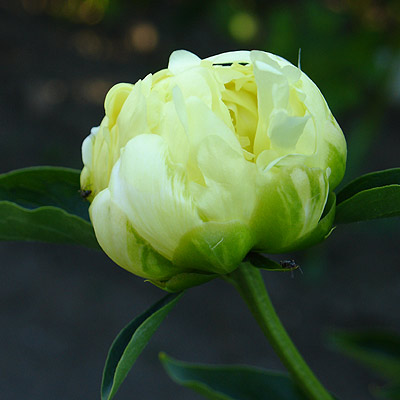 30.10.2007 Ein Sammler schickte mir ein Bild seiner 'Huang Jin Lun'. Ich dachte immer, die wäre gelb gefüllt, aber auf diesem Bild ist sie Anemonenform wie 'Laura Dessert' Hat jemand anders noch Bilder dieser Sorte?
A collector sent me pictures of his 'Huang Jin Lun'. I always thought, it is a yellow double, but this picture shows an anemone form flower with a yellow filling. Does anybody else have pictures of his plant? (= Yokihi = Golden Wheel = Oriental Gold = Minuet = Goldmine = Aurea)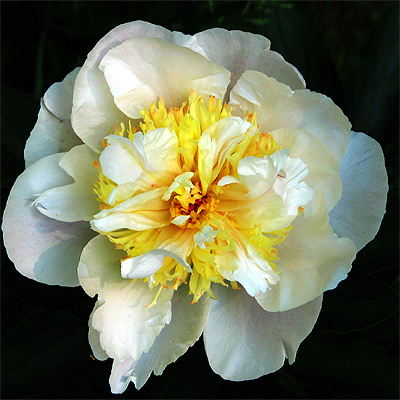 29.10.2007 Ich habe einen ganzen Stapel Kopien von alten Katalogen aus Irland bekommen! Jede Menge neue Informationen. Es wird eine Weile brauchen, bis ich das alles aufgearbeitet habe. Vielen Dank an Denis Mc Nally in Dublin!
I got a large number of copies of old peony nursery catalogs from Ireland today. It will take some time until I finish the scanning and uploading. Many thanks to Denis Mc Nally in Dublin!
25.10.2007 Ich habe endlich Zeit gefunden, Mano Capano's website zu indizieren. Herrlich ausführliche Beschreibungen in englisch und französisch und viele gute Bilder. Danke für die Erlaubnis!
I indexed mano Capano's website with many very good descriptions in english and french and a lot of superb pictures. Many thanks, Mano! 1 new "first picture" [Splendid Cornelia] and the size of the pictures is completely enough!

24.10.2007 Ich wurde mehrfach gefragt, ob das Bild wirklich eine 'Garden Peace' darstellt. Ja, aus meinem Garten 2006, aufgenommen mit der SONY DSC P-100, einer kleinen Knipse ohne Makro oder Filter, aber leicht nachbearbeitet. Hier eine Schritt-für-Schritt Anleitung wie's geht:
I have been asked several times, if the picture shows really a 'Garden Peace', because normally there aren't such yellow stripes. In fact, it is from my garden last year, picture taken with a SONY DSC P-100, a small camera without Macro or filters, but I made some small corrections with Photoshop. Here's the step-by-step manual how to proceed:
1) Rohdaten nach dem Schneiden (Einstellung: Festes Seitenverhältnis)
raw-foto as it came from the camera
2) in Photoshop 7: Bild/ Einstellungen/ Autotonwertkorrektur
in Photoshop 7: picture/ settings/ autocorrection
3) Gradationskurve verändern wie gezeigt (von der Geraden aus)
gardiation corrected as shown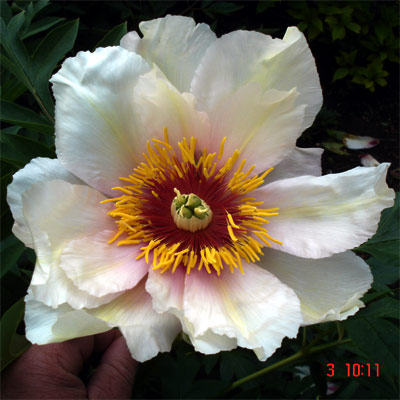 4) Schärfen (Filter/ Scharfzeichnen)
sharpening filter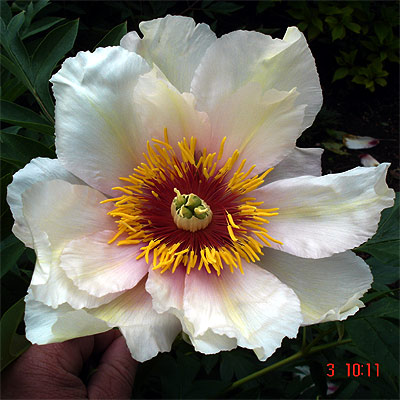 der Unterschied ist heftig, oder?
damit's so aussieht wie unten, habe ich noch die Hand und das Datum mit dem Retuschestempel weggezaubert und die Maße auf 800 x 800 verkleinert, nicht wie oben auf 400 x 400
To get the result as below some retouche is necessary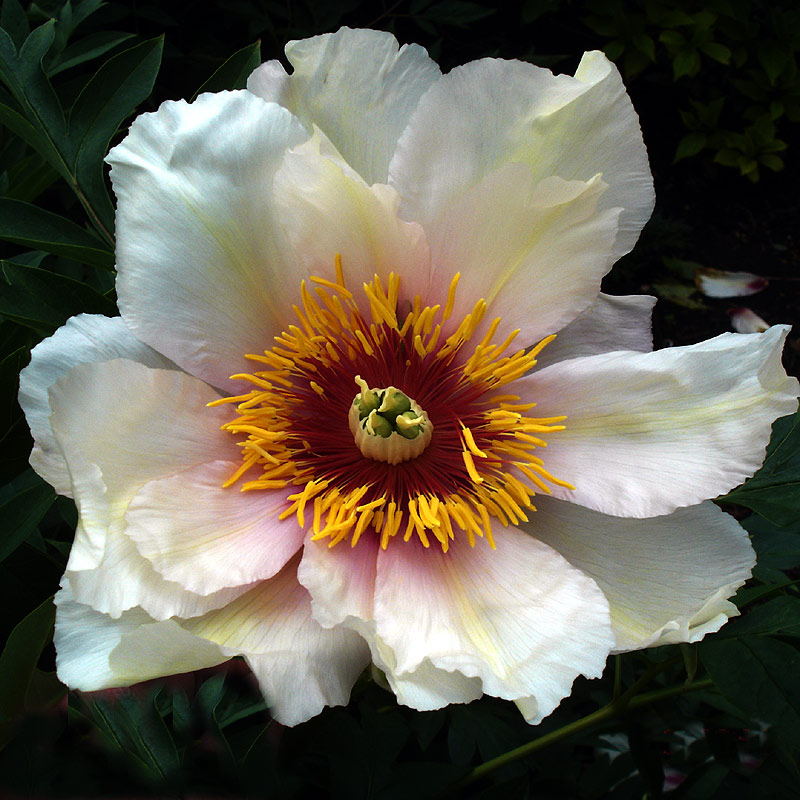 23.10.2007 Hallo Herr Burkhardt, vielleicht sollte man einmal darüber nachdenken, ob bestimmte Informationssammelarbeiten systematisch zusammengetragen und gelistet werden. Wie in einer Wunschliste. Etwa das systematische Photographieren von Pfingstrosensammlungen in Botanischen Gärten. Da gibt es überall welche. Z.B. im Botanischen Garten von Nancy. Die haben eine nette Sammlung von
Lemoine, leider blühen die Sorten immer genau auch dann, wenn ich Hochsaison auf dem Feld habe. Ich habe es all die Jahre nicht geschafft, zeitig zur Blüte in Nancy zu sein. Über ihre Seiten müsste es möglich sein, jemanden zu finden, der das gerne übernimmt. Gleiches für die Sorten aus Irland. Sofern Denis Mc Nally selbst keine Zeit findet, vielleich findet über die Wunschliste jemanden, der sowohl einen Photo als auch Zeit und Geduld hat, genau das zu übernehmen. Mit freundlichen Grüßen Martin Parlasca
--- mal sehen, ein Weg wird sich finden! danke für den Tipp!
23.10.2007 Ich habe eine Antwort auf mein Hilfe-Ersuchen vom 3.10.2007. Post aus Irland .
I had a response on my help request regarding the plants in the National Botanic Gardens Glasnevin, Ireland. It is always surprising how many people read my news!
E-Mail       : denis.mcnally@opw.ie
Land         : Ireland
Kontakt via  : E-Mail
Kommentar    : Dear Carsten
I am the groundsforeman in the National Botanic Gardens Glasnevin. I found your reference to our paeonia collection & the various varieties.
The collection is quite old & has been moved about a number of times. I have spent some time over the last 2 years checking the names & have used your site to help me confirm names. Quite a number of our varieties you list on your site are from old nurseries such as Barr,Chenault Kelways & Bees. We hold quite a collection of old plant catalogues here in our library. I have used these to help me verify the colours of the varieties. I had hoped to make a photo collection of our paeonies when in flower but due to pressure of other work I was unable to do so. I intend to do it next year. If you like I can forward you some information from the catalogues on the varieties.If you give me a postal address I will send them to you.
Regards, Denis Mc Nally
21.10.2007 Adelman Peony Garden's Website wurde wieder mal indiziert und einige neue Bilder und Sorten gefunden.
I re-visited Adelman Peony Peony Garden's website and found some good pictures and 1 previously unlisted variety ('Couronne') and 2 new pictures.

20.10.2007 Ich habe eine Einladung für einen Vortrag in Portland/Oregon für den ersten Samstag im März 2008 angenommen.
I have accepted an invitation of the Pacific Northwest Peony Soc. for their annual meeting first saturday in March 2008  as a speaker in Portland OR. I will stay there for 1 week. Who helps to make a short trip around to see some peony people in the region? I'm a newbie to the US, I have never been there before.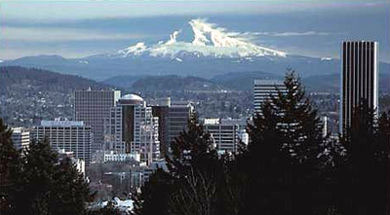 Source: http://vulcan.wr.usgs.gov Photo courtesy USGS/Cascades Volcano Observatory
19.10.2007 Ich habe versucht, ein Suchformular einzubauen, aber irgendwie beißt Star Office den Code beim Speichern wieder mal kaputt. Ich hab's heute nicht geschafft. Beim ersten Probieren ging's prima, aber nach dem Kopieren in andere Seiten waren Teile des Codes weg. Selbst beim manuall Einkopieren mit Phase 5 und Hochladen ohne Öffnen in Star Office hat's nicht mehr funktioniert. Morgen weiter.
17.10.2007 Ab heute ist es möglich, für dieses Projekt Spenden zu entrichten. Mehr Infos Spenden.
From now on you can donate for this project! More infos Donate.
16.10.2007 Eine weitere Firma aus Holland stellt mir Ihre Bilder und Beschreibungen zur Verfügung! Vielen Dank an Ruud Warmerdam. 1 neuer Name (Yvonne) und drei neue erste Bilder.
Another dutch firm gave me the permission to use their pictures and descriptions. Mayn thanks to Ruud Warmerdam. Used pictures and descriptions behind this link. 1 new name (Yvonne) and three new first pictures.
15.10.2007 Ich habe den Newsticker wieder entfernt. Nach jedem Neu-Abspeichern der Seite mit Star Office war er beschädigt und ich musste mir den Original-Code wieder holen und neu Einkopieren. Das bringt mir nur unnötigen Stress. Auf der Seite paeonia.de habe ich ihn gelassen, dort gehe ich nicht so häufig ran.
The news-ticker is already removed. It made troubles with my WYSIWYG-editor Star Office 5.2.
14.10.2007 Bei der Suche nach Details zu einer Sorte stiess ich mal wieder auf die Website der Fa. Esveld. Es hat sich viel getan in den letzten Jahren! Die Bilder sind deutlich besser und größer, die Zahl der Sorten ist beträchtlich. Die Neueinträge 10184 bis 10210 gehen auf's Konto dieser Website, und die Erst-Bilder 4143 bis 4176!
Looking for details to a cultivar Google brought me back to the website of Esveld, there's a lot of changes in the last years. The pictures are much better and larger, and the number of available cultivars is enourmous. New entries No. 10184 to 10210 are found from there, and fist-pictures No. 4143 to 4176!
13.10.2007 Ich habe gestern meine Wild-Lactiflora aus dem russischen Fernen Osten aufgenommen und geteilt. Ein Freund wollte ein Stück haben, naja, da teilt man halt mal. Zu meiner Bestürzung ist die Pflanze stark mit Nematoden befallen. Hat aber immer schön geblüht. Sie bekommt eine Spezialbehandlung und wird neu aufgepflanzt. Bilder und Karten hier.
I divided today a wild originated Paeonia lactiflora from the russian Far East, Arsenyev. Pictures and maps and more see here.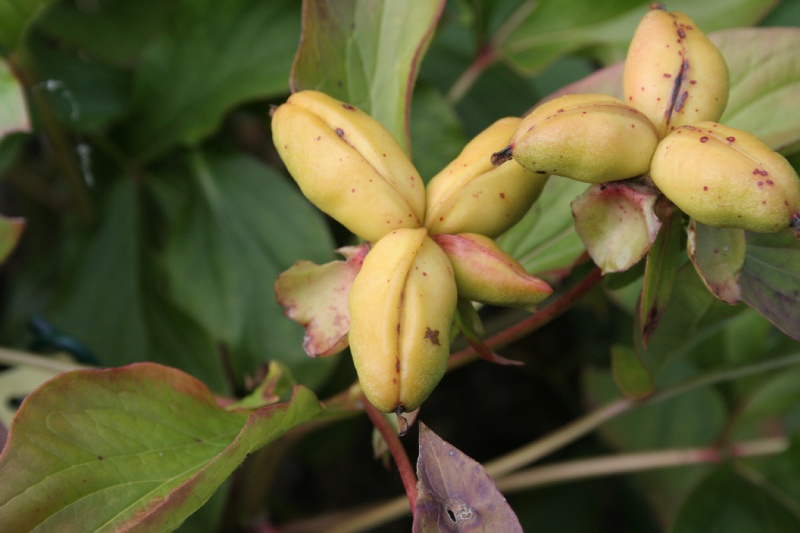 11.10.2007 Ich habe heute eine ausführliche und kommentierte Liste von Pfingstrosengärtnereien in Holland erhalten. Vielen Dank für die Hilfe an Guillaume F. Bastin!
Today I received a complete and commented list of peony nurseries in Holland. Many thanks to Guillaume F. Bastin!
11.10.2007 Ab heute läuft der Ticker hier oberhalb. Neue Nachrichten sind verlinkt, einfach in den Ticker klicken
The news-ticker is mostly in german, but from time to time will be english language news too. Click on the news for more infos.
09.10.2007 Ich habe einige Abstimmungen installiert. Viel Spaß!
I have installed some votes. Have fun.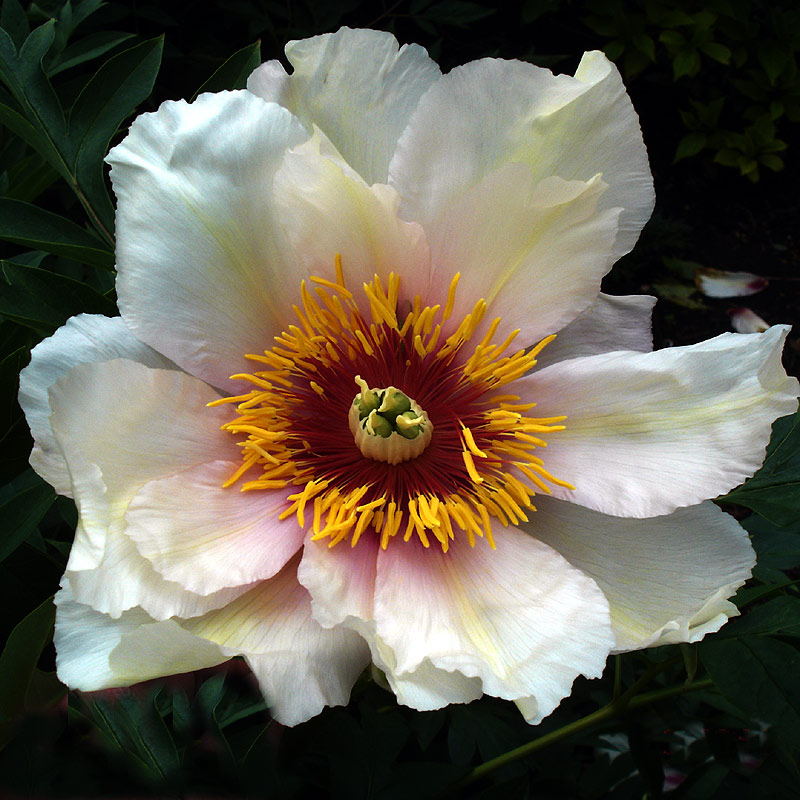 Paeonia 'Garden Peace'
09.10.2007 In Australien geht die Blütezeit los! Denis Wilson (ja, es gibt den alten Aussie noch!) meldete heute neue Bilder auf seinem Blog. Und beschert uns mit 'Destiny' Eintrag Nummer 10180 bzw. Bild #4136
The blooming season in Down under has begun. My dear old friend Denis Wilson sent some links to his blog.
09.10.2007 Ich werde ab sofort die "neu bebilderten"** und "neu aufgenommenen Namen"* extra auflisten, auffindbar hinter dem Link in der Namensdatenbank links ganz unten (Die Sternchen waren schon lange da, hatten aber wenig Funktion).
A new function comes from now on. All new entries to the database * will be listed separately, and also all with the first picture ** (the number is now 4135).
08.10.2007 Per Email kam eine Menge neuer Bilder von Harold Entsminger, damit steigt die Anzahl mit Bild auf 4135. (Entsminger 2007)
A number of new pictures from Harold Entsminger, Cut Bank, Montana. Many thanks!
07.10.2007 Die Fachgruppe Paeonien der GdS hat eine neue Leitung: Beim Treffen in Heppenheim wurde der alte Vorstand unter meiner Leitung entlastet und ein neuer Vorstand gewählt. FG-Leiter ist Thomas Seiler aus Heidelberg, Kassiererin Barbara Keller aus Würzburg, Stellvertreter Horst Bäuerlein aus Bad Abbach. Herzlichen Glückwunsch zur Wahl und viel Erfolg in der Amtszeit 2007-2010
The german Fachgruppe Paeonien has a new leadership. The former chaiman Dr. Carsten Burkhardt didn't volunteer again for another election after two periods. The new chairman is Thomas Seiler. Details on www.paeonia.de
03.10.2007 Bei der Arbeit an der Züchter-Datenbank stiess ich auf die Website des Glasnevin BG in Irland. Und dort fand ich eine Liste von Sorten, von denen viele nirgends beschrieben sind. Siehe folghende Aufstellung: Link.
During the work on my breeder-database I found the website of Glasnevin BG in Ireland. There is a file with the peonies in stock. With many unknown cultivars. Does anyone know details or has pictures of the following cultivars??
Paeonia 'Yanookima' VBF (2)
Paeonia 'Victoria' VBE (9)
Paeonia versuvious ? B2
Paeonia tenuifolia 'Latifolia' VBE (25)
Paeonia suffruticosa 'Kagurayima' VBF (1)
Paeonia peregrina 'Osbourne' VBE (34)
Paeonia officinalis 'Sabinei' VBE (31)
Paeonia officinalis 'Carnescens' VBE (33)
Paeonia officinalis 'Blanda' VBE (30)
Paeonia 'Odette' VBE (2)
Paeonia mollis 'Marie Jacquin' VBE (42)
Paeonia lactiflora 'Reevesiana' VBE (39)
Paeonia lactiflora 'Purpurea' VBE (36)
Paeonia lactiflora 'Milton' VBE (32)
Paeonia lactiflora 'Kaiserine' VBE (24)
Paeonia lactiflora 'Grisselle' VBE (30)
Paeonia lactiflora 'Dorothy' VBE (38)
Paeonia lactiflora 'Ballaway' VBE (33)
Paeonia gravillia B2
Paeonia grandiflora VBE (1)
Paeonia 'Gertrude' VBE (27)
Paeonia 'Dreadnought' VBE (23)
Paeonia 'Darius' VBE (28)
Paeonia 'Celestial' VBF (12)
Paeonia 'Beatrice Kelway' VBE (6)
Paeonia arborea 'Duc D'Aremberg' VBF (9)
Paeonia × coroceila B2
3.10.2007 Danke an PeoniesPlus aus Elma, WA, USA für eine CD voller Bilder. Auch hier eine Menge neuer Sorten. Damit erhöht sich die Zahl der Sorten mit Bild auf 4127
Many thanks to PeoniesPlus from Elma, WA, for a CD full with pictures. 90 Links back to your webiste are my thanks to you!! The number of cultivars with a picture increases now to 4127!
2.10.2007 Danke an Margitta Stewart für eine CD voller toller Bilder. Einige Neue dabei, damit erhöht sich die Zahl der Sorten mit Bild auf 4122. Dateiliste.
Many thanks to Margitta Stewart from Germany, who sent a CD with wonderful pictures. Thereby the number of cultivars with a picture increases to 4122.
1.10.2007 Einige Bilder von Wildarten, die vor Jahren durch mich bezogen wurden und jetzt in deutschen Gärten wachsen:
some pictures from a friend in South-Germany, who purchased these chinese plants from me several years ago.
Paeonia jishanenis (ex Jishan county)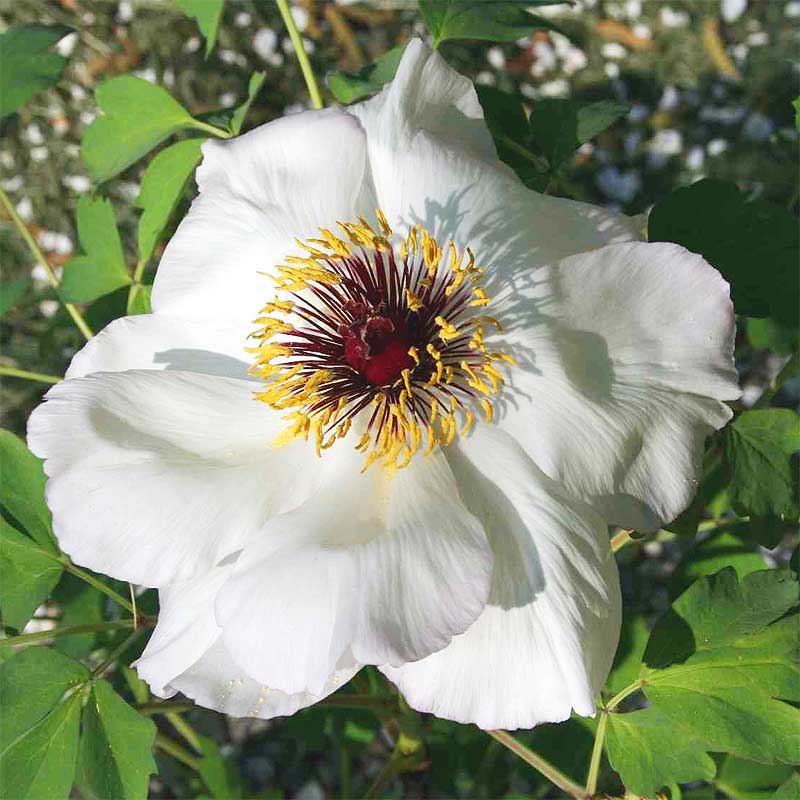 Paeonia mairei ex Guizhou
Paeonia qiui (from a nursery in Luoyang)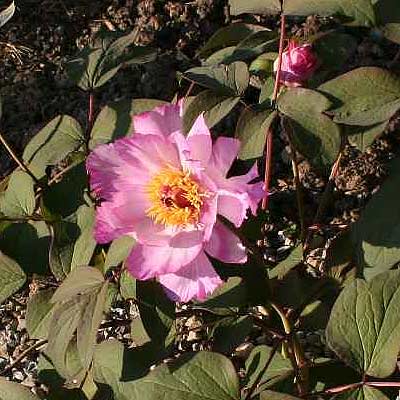 1.10.2007 Da fällt mir ein, dass bei mir auch einige schöne Wildarten 2007 erstmals geblüht haben:
Maybe a good time to show some pictures of species I have grown from Halda seeds. Fisrt flower mostly 2007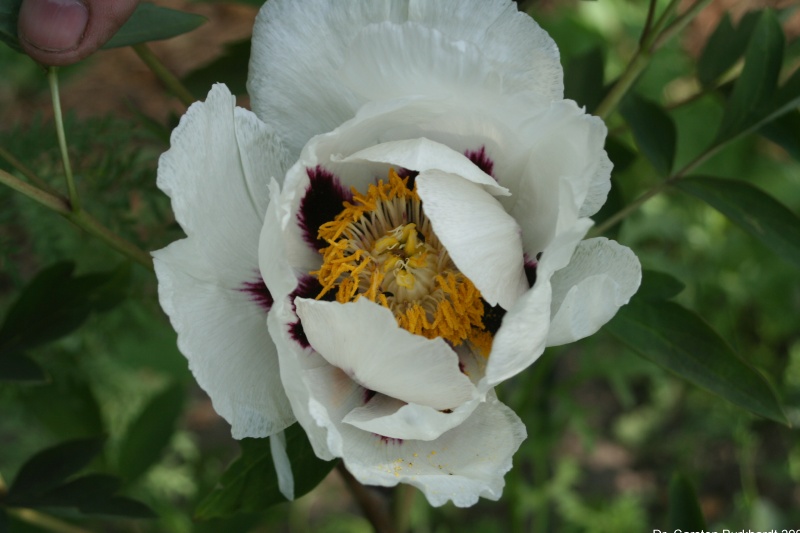 Josef Halda's collection 2001
JJH010925 P. suffruticosa subsp. rockii Guizhou, West-China: trockene felsige Hänge; kleinere Büsche bis 0.7m hoch und breit, riesige rein weiße Blüten mit dunkel purpurnem Auge; 8 Samen
166. P. suffruticosa subsp. rockii JJH010925 GUI: dry rocky slopes; smaller bushes up 0.7m tall and across, huge pure white flowers with dark purple eye; 8 seeds
date of sowing: 11.2001
date of planting: 2002
first flower: 2007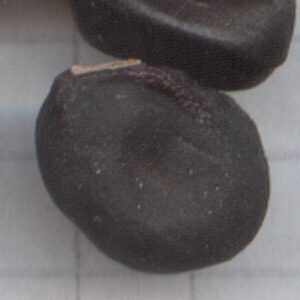 Josef Halda's collection 2000
#164 Paeonia suffruticosa subsp. suffruticosa JJH000978 China Guizhou 0,32g/Korn
calcareous bushy slopes; 1800m; shrubs up to 1m tall, large lavender-pink undulate flowers
kalkige strauchbewachsene Hänge; 1800m; Sträucher bis zu 1m hoch, großen lavendel-pinkfarbene flattrige Blüten
date of sowing: 10.2000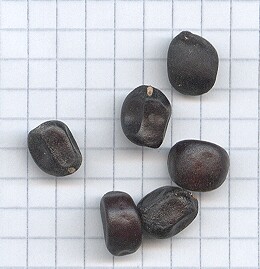 date of planting: 2002
first flower: 2006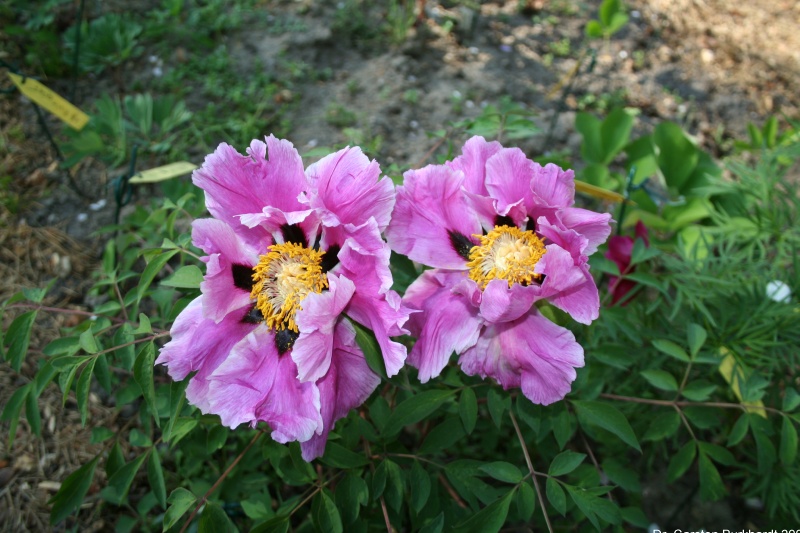 Josef Halda's collection 2000
161 Paeonia suffruticosa subsp. rockii JJH000988 China Guizhou trockene felsige Hänge; 2200m; dichte verzweigte Sträucher bis 80cm hoch, großen weiße Blüten mit purpurnen Basalflecken
dry rocky slopes; 2200m; densely branched bushes up 80cm tall, large white flowers with purple blotches in the middle
161 Paeonia suffruticosa subsp. rockii JJH000988 China Guizhou 0,30g/Korn
date of sowing: October 2000
date of planting: March 2002
first flower:. 5.2007








Josef Halda's collection 2000
#149 JJH000917 China Yunnan Habashan 0,45g/Korn
subalpine strauchige Hänge; 3400m; dichte Sträucher von ca. 1m Höhe, dunkel purpur-violette Blüten
subalpine bushy slopes; 3400m;dense bushes ca. 1m tall, dark purple-violet flowers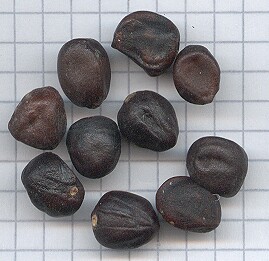 October 2000
2002
2005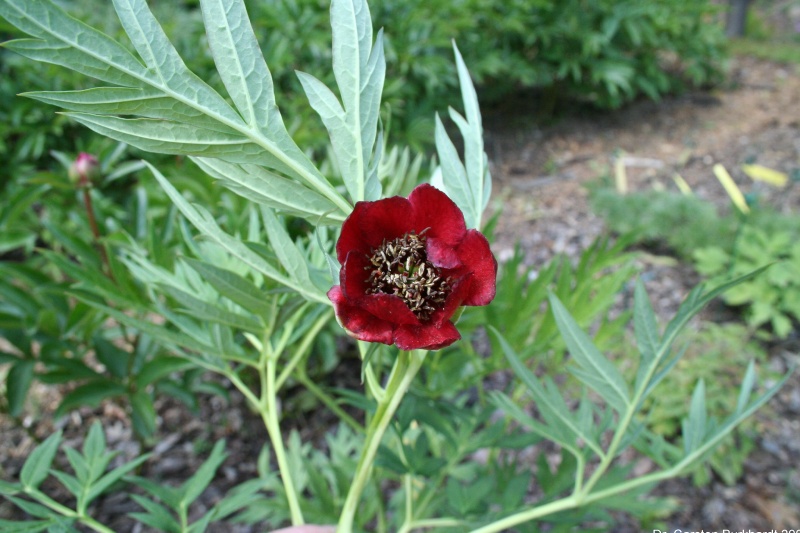 Josef Halda's collection 2000
#153 Paeonia x handel-mazzetii JJH000953 China Yunnan Habashan 0,72g/Korn
JJH000953 China Yunnan Habashan gemischte Abies-Tsuga Wälder; 3400m; kleine Sträucher mit bräunlich-überhauchten Blättern, leuchtend orange-roten Blüten
mixed Abies-Tsuga forest; 3400m; smaller bushes with brownish-flushed leaves, bright orange-red flowers
date of sowing: October 2000
first flower: 5.2007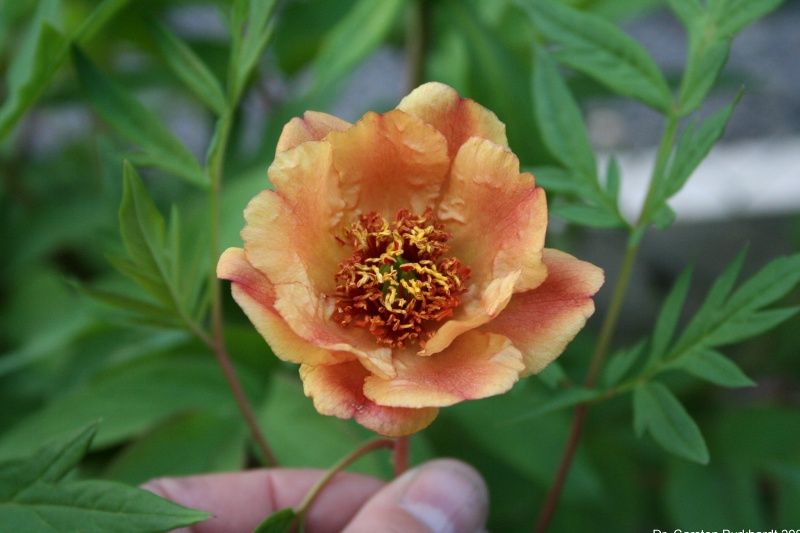 Paeonia qiui ex Baokang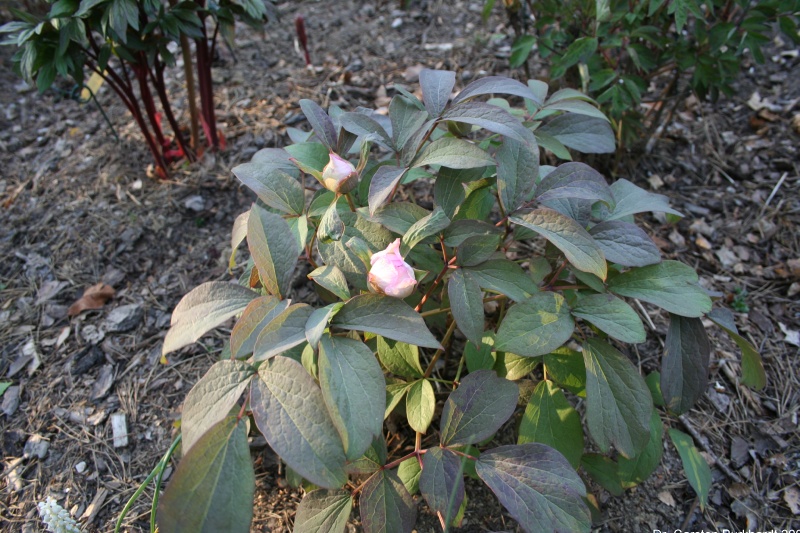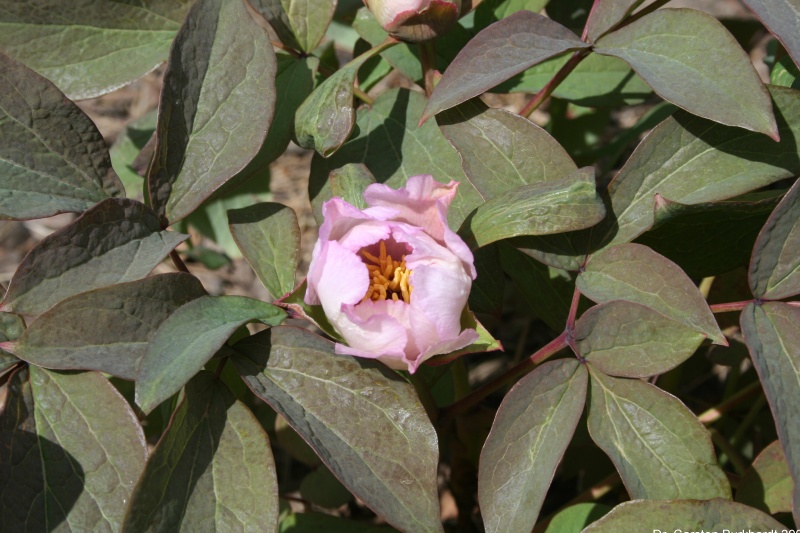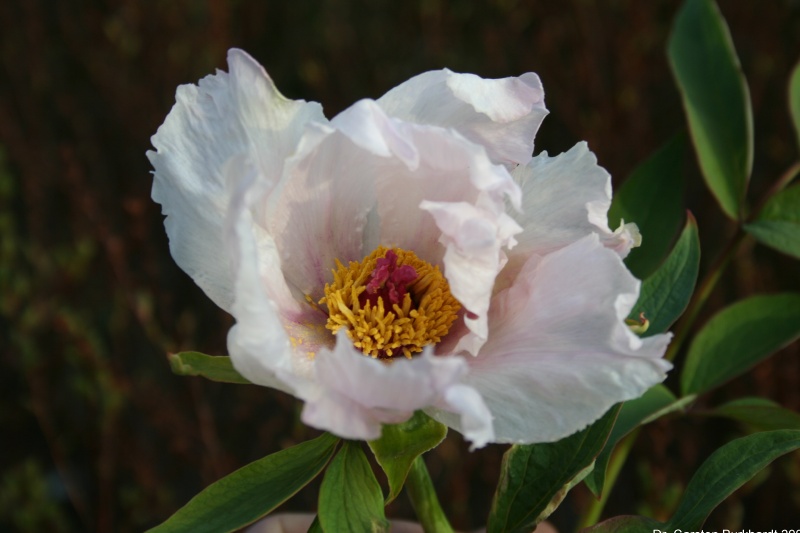 Paeonia spontanea (P. jishanensis)