Paeoniaceae - Paeonia albiflora [?] - Paeonia edulis x potsii sub x hybrida delachii
From: Annales de la Société royale d'Agriculture et de Botanique de Gand, Journal d'horticulture by Charles Morren (editor).
Gent, Local de la Société (Casino), etc., 1849, volume 5 (plate 265). Chromolithograph by Léon Bernard finished by hand (sheet 170 x 257 mm).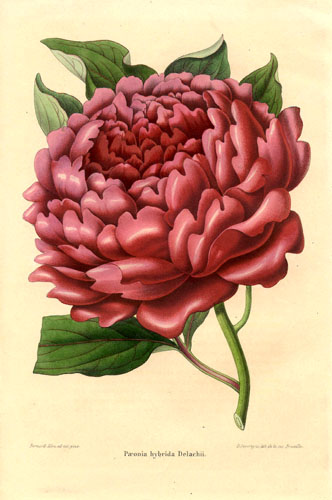 Belgian horticultural journal, published from 1845-1849 by the Royal Agricultural and Botanical Society of Gent, organizer of the famous flower shows in Gent, Gentse Floraliën, since 1809. Started and edited by Charles Morren at the same time as the more successful competitor Flore des serres et des jardins de l'Europe of the nurseryman Louis van Houtte.

Peonies, The Manual of the American Peony Society, edited by James Boyd © 1928 American Peony Society: [Check List of Chinese Peonies in Commerce] Double Peonies, page 29.
Delâchei. (Delâche, 1856.) 7.1 (Sym. 1921). Syn., Emperor of Russia. Red. Discarded.
Emperor of Russia. See Delâchei.

'Delachei' (Delache 1856) : fl. double, rouge-pourpre brillant, 90cm, mi saison